"We came to the desert to howl...To be modern anthropologists and cut out the trend forecasters."
STORY BY Gianna Keiko Rankart
PHOTOGRAPHY BY
Colin McCarthy
We are not here to talk about work. Or womenswear. We're here for the anti-trade show. With brand slogans such as "Be honest, stay true" (Hot Cakes) or "Find some place to get lost" (Iron & Resin), Desert & Denim is equal parts debauchery and inspiration. It's only fitting that it all went down at the eco-chic boutique motel in Joshua Tree, managed by Sue Burnett formerly of exclusive vintage and vintage-inspired Wasteland Clothing. Possibly the most refreshing part of walking around booths was interacting with actual makers on a mission to reconnect to process. There weren't any well-intentioned representatives, everyone in attendance had indigo-dyed fingertips, scars from welding and stories to tell about failed dye processes. There's an honesty behind the people who are the brands: "well, we got started because I got pregnant. Our work is made from old things… we used to make them for ourselves and now we make them for everyone." (Peg and Awl). This honesty came through as each creator spoke first hand about their sourcing & techniques.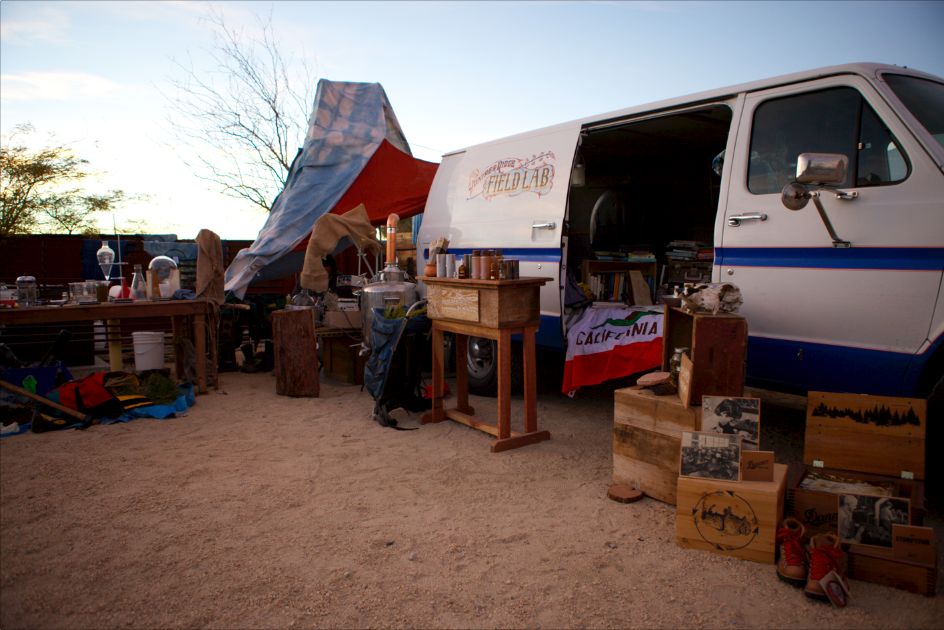 Officially two days on paper (though most folks hiked/camped a week), this dust coated gathering of hard-working hands is hosted by wildcrafted fragrance company Juniper Ridge. "Basically, Obi (Kaufmann) and a couple other guys got drunk and were ragging on all the shitty trade shows they'd been to. Will it happen next year? Ummm, ask me at the wrap party." A self-proclaimed "drunken poet" Obi is as authentically Kerouac-inspired as they come. Wicked at remembering names, he's the same vibrant spirit around a campfire at midnight as he is at 9am leading a foraging hike in the Mojave Desert. The gathering was small- 23 brands and 100 or so attendees in total, creating an event akin to a curated artist's salon.
There are demos on natural dying, leather care (Otter Wax) and Whiskey Know-how (Workhorse Rye), but they have to compete for attention with complimentary men's cuts (Fellow Barber) or sunset motorcycle rides captured by drone cameras on dried-up lake beds in Bureau of Land Management territory. Desert & Denim is about connecting to the process, the creators and why we choose lockstitch construction techniques (Jack Knife), chain-stitch techniques (Ft. Lonesome), or hand-shaped fur felt hats (Havstad). It's uncompromisingly American-made, reminiscent of simpler times and built to withstand even your best shenanigans.
We came to the desert to howl. To be modern anthropologists, cut out the trend forecasters. Make the best goods possible inspired by nature & experience. Give life to those things and surround yourself with equally unapologetic makers & creators. We came to the desert to uphold the emerging creative spirit that happens in the in-between moments, the negative space, the room to roam. As Camus said: "with rebellion, awareness is born."
They meet again next at the Mojave Sands Motel in Joshua Tree, CA on February 17th & 18th 2016. For more on Desert & Denim, visit http://desertanddenim.juniperridge.com/
Gianna Keiko Rankart is a lifestyle and adventure photographer and writer. She believes our stories hold power and should be told. For more from Gianna, visit www.giannakeiko.com
Colin Mccarthy is an outdoor lifestyle + documentary photographer, currently working and playing in sunny Southern California. Keep swimming. For more from Colin, visit www.colin-mccarthy.com