"... filled with vintage furniture and art curated from Italy and beyond, keeping the glamour-among-ruins aesthetic of Venice's Palazzo Fortuny as its muse."
Austin, Texas is no stranger to fire. From the flames that ravaged the old Texas Capitol building in 1881 to the piping hot pits where some of the best barbecue in the nation is browned to perfection today, the city's relationship with the unpredictable element has plenty of history. Its first firehouse was founded in 1885, but it's the second one, built five years later, that still commands attention today.
Once known as a hook and ladder station, Palazzo Lavaca is a private residence in the heart of Austin, nestled amid local shops and office buildings. Built in 1890, the space was originally Austin's second fire station, and later spent decades as a saddlery selling boots and Western equestrian gear to everyone from Gene Autry to Al Capone. These days, it has been transformed into an Italian palazzo of sorts, filled with vintage furniture and art curated from Italy and beyond, keeping the glamour-among-ruins aesthetic of Venice's Palazzo Fortuny as its muse.
Luckily for those just passing through town or looking to throw a party in a unique venue, the residence and all its splendor can be rented for an evening soiree or a several-day stay. Here's a quick primer on what to see and do if you choose to take a step back in time by using this quirky gem of a historical landmark as your home base.
DO:
Downtown Austin is always abuzz with something to do.(It's not called the "Live Music Capital of the World" for nothing.) A short walk from the Red River music district, Palazzo Lavaca offers plenty of creative decadence all its own, but near-nightly live shows at The Mohawk, Stubbs and Beerland aren't to be missed. If that's not enough sonic saturation for you, Elysium and Barbarella are perfect places to dance the rest of the night away before rolling back to plush living quarters fit for a true rock star (and indeed, it's rumored that a few have stayed there in recent years). Just around the corner, tours of the Capitol Building are free to visitors by day, and by night, the nightlife is as vivacious as Austin's nickname suggests.
PALAZZO LAVACA 1614 Lavaca St, Austin, TX 78701 For availability, contact Oliver@PalazzoLavaca.com
EAT/DRINK:
There's no better place around for whipping up some home-cooked Italian fare with friends, as the fully-appointed chef's kitchen upstairs affords all sorts of culinary adventures. A 10-person dining table spans the living space, although the kitchen island itself is perfect for casual gatherings too. For more formal affairs, the downstairs ballroom welcomes guests with antique wood floors, gilded walls and vintage chandeliers, and local caterers like Pink Avocado can cater parties of all sizes, while an array of local food trucks from East Side King to P.Terry's can be hired to pull up to the starry courtyard out back and satisfy late-night cravings for po'boys, burgers, and more. Those who want to venture out into the neighborhood would be wise to amble into the iconic Texas Chili Parlor just across the street; it's been serving up countless bowls of the fiery American classic since 1976. Sweet-toothed guests delight in fresh-baked cookies from Tiff's Treats, another nearby staple of down-home flavor enjoyed by Austinites all year round, and what's more, they can be delivered straight to the Palazzo's front door within minutes.
SLEEP:
The space hosts three bedrooms: a master suite upstairs and two guest rooms downstairs, all outfitted in sumptuous Venetian-influenced fabrics and finishes. From the high ceilings and velvet damask wallpaper of the guest rooms to the opulent mercury glass facades and tactile textiles of the master, the art-filled home is a perfect retreat after a party within its walls or a night out on the town in the weird, wild heart of Texas.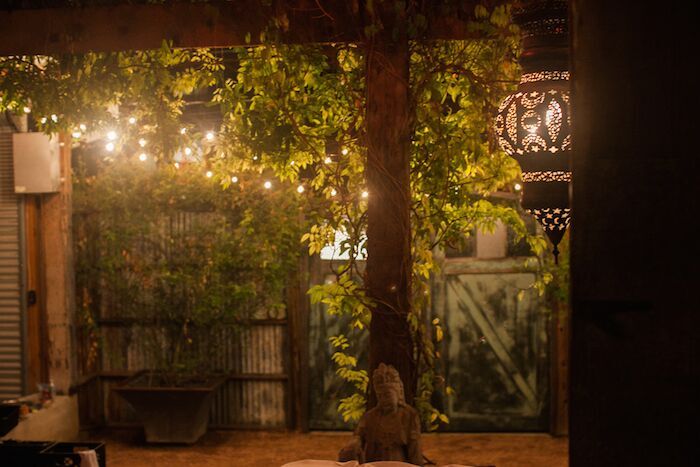 Amy Lynch is a writer and editor based in Austin, Texas. Her work has appeared on The Hairpin, Refinery29 and Brit + Co. For more, visit amylynch.squarespace.com.